PARIS, France (CNN) -- The first bodies to be recovered from the crash of Air France 447 returned to land Tuesday, as helicopters landed on the Brazilian archipelago of Fernando de Noronha, according to a CNN reporter on the scene.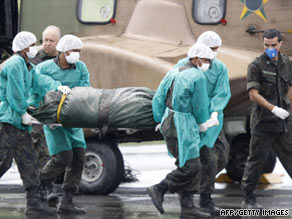 Brazilian military personnel on Tuesday carry the remains of one of the passengers of the Air France crash.
Two Brazilian helicopters, each able to carry up to eight bodies, took off earlier to rendezvous with the Brazilian navy ship carrying the 24 bodies that have been recovered so far.
Air France 447 crashed in the Atlantic Ocean last week en route from Rio de Janeiro in Brazil to Paris, France, with 228 passengers and crew on board. It was the deadliest plane crash ever for Air France.
The cause of the crash is not yet known, but investigators are looking at the role of airspeed sensors known as pitot tubes, among other factors.